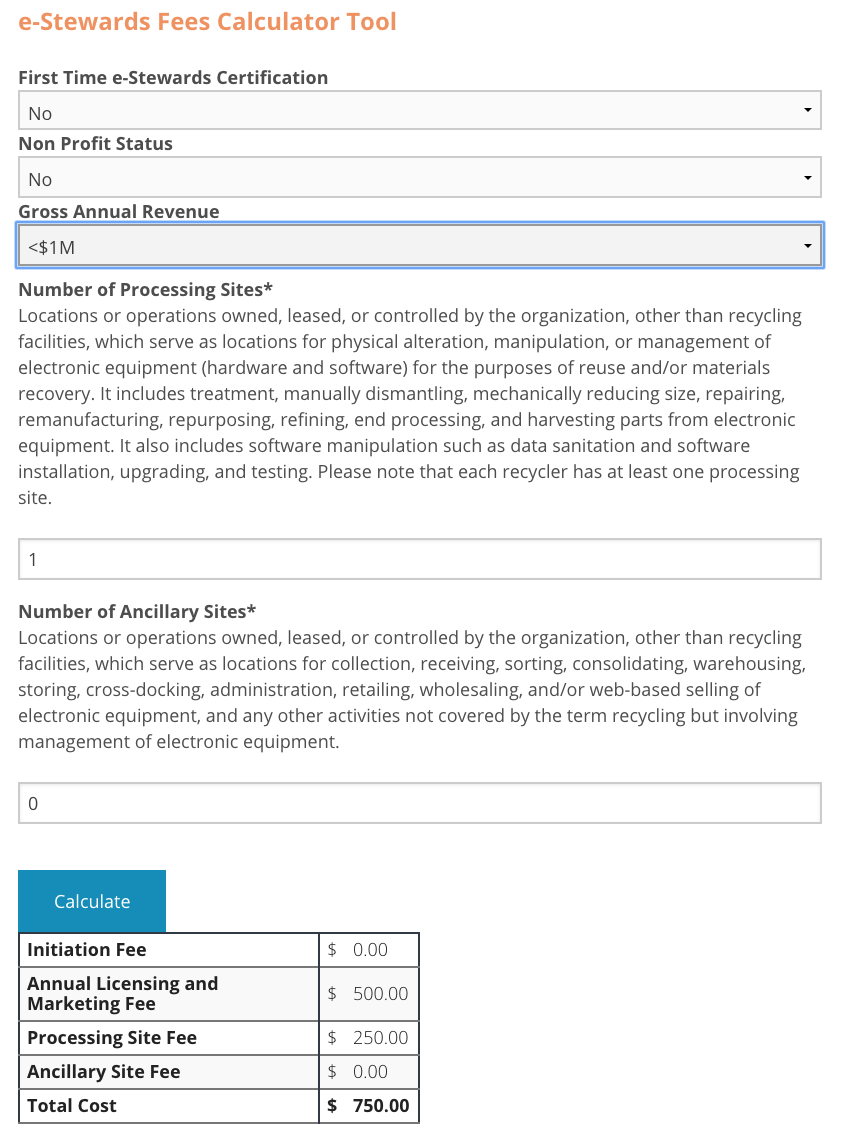 When estimating your costs for certifying to the e-Stewards Standard, there are four separate costs to consider:
e-Stewards Standard: $195 (plus tax if applicable) The Standard itself currently costs $195 USD and is available to download (with supporting documents including the mandatory Sanctioned Interpretations) here. The fee can be paid for online and goes to the e-Stewards program to help us administer the program as well as pay royalties to the International Standards Organization for ISO 14001.
Internal "Get Ready" Costs
"Get Ready" Costs include the costs of your time and expenses in setting up and implementing an effective management system in your operation(s) that is in conformity with the e-Stewards Standard. Competent consultants may be employed to help set up a functioning e-Stewards management system. If your operation is already ISO 14001 certified, the time and cost to develop the e-Stewards management system should be greatly reduced. Internal development costs may also include an optional pre-audit assessment, conducted by the certification body or consultants.
Initiation Fee and the Annual License & Marketing Fee
Prior to becoming certified and annually thereafter, all e-Stewards certified recyclers must pay a licensing and marketing fee to the e-Stewards program administrator. Fees are determined by a sliding scale, based on revenues from electronics recycling at all e-Stewards contracted sites. This fee scale is found here.
Additionally, e-Stewards Recyclers must pay a one-time initiation fee of $500 upon execution of a contract with an accredited certifying body.
The fees cover administrative costs and marketing support for certified e-Stewards recyclers. The license and marketing agreement is available upon request by contacting info@e-Stewards.org.
Annual Performance Verification Program Fee
Certified e-Stewards pay an annual fee to cover the cost of the Performance Verification (PV) program. The PV program involves random unannounced on-site facility inspections at certified e-Stewards locations, and GPS tracking to verify ongoing day-to-day performance is meeting the e-Stewards Standard. The inspections and tracking will be in addition to the normal, prescribed yearly scheduled 3rd party audits accomplished by accredited certification bodies.
The annual fee is $250 per processing facility, and $250 per Ancillary Site, with a 5 site cap for Ancillary Sites.
On-site Audits and Certification
These costs are largely governed by international rules for certification bodies and are related to the number of "auditor-days" required to conduct the audit, plus auditor travel expenses. The number of auditor-days is variable and is mainly determined by:
the number of employees working for the recycler
the number of sites to be certified
whether an ISO 14001 certified system is already in place
minimum number of auditor-days required by ISO and e-Stewards program administrator
The best way to get an accurate estimation of costs is to speak directly with the e-Stewards accredited certification bodies themselves. Contact our certifying bodies for competitive estimates.