GENERAL QUESTIONS
What is "digital equity?"
As defined by the National Digital Inclusion Alliance, Digital Equity is a condition in which all individuals and communities have the information technology capacity needed for full participation in our society, democracy and economy. Digital Equity is necessary for civic and cultural participation, employment, lifelong learning, and access to essential services.
One in five Americans lack consistent access to computers and the internet. This hinders their educational, employment opportunities as well as access to public services. All over the world, cities and other governments are beginning to launch digital equity programs, to help remedy this situation.
What is the e-Stewards Digital Equity (eDE) program?
The e-Stewards Digital Equity program solves the community need to achieve all-inclusive digital literacy by channeling used IT equipment from major institutions and corporations, refurbishing it to the highest standard, and then deploying it at low cost to deserving communities and individuals via existing government Digital Equity programs.
The program uniquely creates a partnership between e-Stewards Refurbishers/Recyclers, and cities including those in the Housing and Urban Development Department's (HUD) ConnectHome program, and corporate and institutional donors all committed to operating in accordance with the most ethical refurbishment standard — e-Stewards.
When will the e-Stewards Digital Equity (eDE) program go live?
The e-Stewards Digital Equity program will publicly launch on January 1, 2018. If you are interested in getting involved, please contact us now about becoming a partner by filling out this form.
How does the e-Stewards Digital Equity (eDE) program work?
Individual city-led Digital Equity programs and refurbisher's operating models vary. However, the overall process of the e-DE program is the same and works as follows:
Participating enterprise digital equity partners will make available used IT equipment meeting the EveryoneOn/ConnectHome minimum requirements at little or no cost to Certified e-Stewards Refurbishers/Recyclers;
Certified e-Stewards Refurbishers/Recyclers will refurbish the donated equipment ensuring data is protected and any replaced hazardous parts will not be exported to developing countries or otherwise handled unsafely or unethically;
Cities or to existing city sponsored digital equity programs will be able to buy the high-quality equipment at a low cost for carefully planned deployment in the community;
Incentives will be provided to promote return of equipment to e-Stewards Certified Recyclers at end-of-life at no cost to the end-user.
What benefits does the e-Stewards Digital Equity (eDE) program provide for Stakeholders and the Environment?
Large enterprise companies and institutions who participate in the eDE program can rest assured that their equipment is being refurbished to the highest socially and environmentally responsible standard, e-Stewards. This program allows enterprises to take part in a CSR program while reducing risk, liability and data security.
Many cities and local governments have established comprehensive digital equity programs but the cost of the IT hardware can make it difficult for these programs to scale and reach their full potential.  The eDE program provides cities with a large selection of high quality, affordable, matching machines professionally and ethically refurbished to offer to their beneficiaries.

The eDE program offers a new service to existing and new e-Stewards Certified Refurbishers/Recyclers who participate, expanding the potential clientele and access the ITAD market. Additionally, it enables refurbishers and recyclers an opportunity to engage with their City and corporate clients in a new and very positive way.
As with most programs designed to extend the life of a product, the environment will reap benefits from the eDE program as well. Most of the energy and resource consumption in a computer's lifecycle occurs during manufacturing thus when fully functioning, energy-efficient equipment finds a reuse market, energy and natural resource consumption drops, reducing their toxics and carbon footprint.
How is proper end-of-life management encouraged following deployment in the community?
The eDE Program not only promotes digital equity but sustainable end-of-life management of devices. This is done by offering end-users the following benefits:
Training on proper end-of-life recycling and data protection offered by the eDE City Partner in collaboration with a local e-Stewards refurbisher/recycler;
Equipment identifiers including unique serial number, QR code and e-Stewards recycling label;
Free recycling for eDE equipment when it reaches end-of-life;
Incentive to return equipment to e-Steward Certified Recycler/Refurbisher.
What is an e-Stewards Digital Equity (eDE) Partner?
A Digital Equity Partner can be a business equipment or service donor, e-Stewards Certified refurbisher/recycler or any city or local government that promotes digital literacy and Internet access programs in the community via the e-Stewards Digital Equity program described above.  After signing a license agreement, they will be entitled to use the following logo: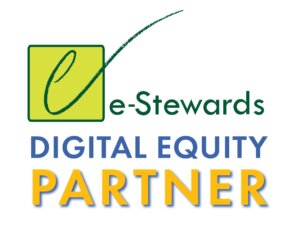 Click here to see the list of organizations currently signed in as official partners of the program.
How can non-profits or community organizations participate in the e-Stewards Digital Equity (eDE) program?
The Digital Equity program engages with organizations selected by our City Partners. One can contact a City Partner to learn which non-profits or community organizations are supported by their digital equity programs and how to get your favorite non-profit involved.
How is the e-Stewards Digital Equity (eDE) program associated with the HUD ConnectHome program?
In 2017, The US Department of Housing and Urban Development (HUD) launched the ConnectHome Nation,  program, with the goal to reach more than 100 communities and digitally connect 350,000 people living in public housing by 2020. Today, the ConnectHome program is active across the US, adding new cities every day, with day-to-day operations being managed by the non-profit organization, EveryoneOn under the name ConnectHome Nation. e-Stewards is an official partner of ConnectHome Nation and EveryoneOn.
Is the e-Stewards Digital Equity (eDE) program available globally?
Currently the program is only available in North America, however the program is happy to connect with Digital Inclusion initiatives globally.
ENTERPRISE QUESTIONS
How does participating in the e-Stewards Digital Equity (eDE) program benefit Enterprise Partners?
Giving decommissioned and depreciated IT equipment a second-life through a digital equity program gives invaluable returns on items that don't represent value on the balance sheet. Using e-Steward certified partners, companies are guaranteed the highest standards in terms of data protection and material management, minimizing risks and liabilities. In addition, by participating in this program, your enterprise can receive positive marketing, public relations, earned media, and brand equity; increase employee engagement; and communicate the direct benefits reuse has on carbon and toxics footprints as well as society.
How many devices do I need to donate?
Enterprise Partners should provide a minimum of 100 computing units per year on average over a five-year period to the e-Stewards Digital Equity program.
Is my donation tax-deductible?
e-Stewards' parent entity, Basel Action Network, is a registered 501(c)3 non-profit organization. All donations made through the Digital Equity program will receive donation certificates and mention of donations will be made online for supporting digital literacy and equity in their communities.
What type of equipment do you accept?
The eDE program is open to accepting a wide array of computing hardware from participating enterprises. However, to ensure maximum redistribution and alignment to the ConnectHome goals, we require the same minimum requirements as defined by the ConnectHome program.
Any material that comes into an e-Steward certified facility will be evaluated for its reusability and life expectancy. Only devices that meet the "New Device Experience" requirements (not scratched, dented, discolored cases or screens) will be made available for Digital Equity programs. All other material will be disposed of or used for replacement parts in accordance with the e-Stewards Standard.
We know e-Stewards refurbishers/recyclers are skilled in recycling, how are they trained to be refurbishers?
All e-Steward refurbisher/recyclers are certified to the e-Steward Standard and audited annually. This includes utilizing the rigorous ISO 14001 environmental management system as well as very rigorous controls on worker safety and health, downstream residual management and data security.  Proper refurbishing techniques, quality controls, reporting and data-sanitation requirements are all included in the e-Steward Standard.  Participating e-Stewards refurbishers/recyclers already have many years of experience in rufurbishment and reselling fully-functional equipment.
Further, all e-Stewards Partners will have access to discounted parts, and tools from our service partner iFixit as well as access to pro repair forums of iFixit.
How will I find an e-Stewards eDE refurbisher/recycler?  What if there isn't one in our area?
While the program will not be active until January 1, 2018, participating e-Stewards partners are currently listed here. To find out more about these companies, type their name into the e-Stewards Find a Recycler page. If you do not see a nearby partner on the list call e-Stewards eDE program at:(206) 436-8595.
REFURBISHER/RECYCLER QUESTIONS
How does the e-Stewards Digital Equity (eDE) program benefit refurbishers/recyclers?
This program can provide a new revenue stream for refurbishers/recyclers. Asset reuse is not tied to the commodity market and allows companies to buffer its effects. Current enterprise customers may wish to exploit this model and reap the public relations benefits together with the refurbishers/recycler.  The human stories that can be told are poignant and powerful. These programs tie the refurbisher/recycler more closely to the community in which they operate and thus opens doors to other community customers and local governments.
Can e-Stewards refurbishers/recyclers make money from this program or is it all for good public relations and charity?
The eDE program is designed in such a way that e-Stewards refurbishers are able to create a new revenue stream. In addition to the excellent public relations and stories provided by this program, e-Stewards refurbishers/recyclers will be able to make a profit margin while still providing affordable, high quality equipment, to digital equity needs.
If there are multiple donors and/or refurbishers/recyclers in the same city or region how will the transactions be coordinated?
While adhering to basic rules of fairness established by the e-Stewards program, Cities are largely responsible for defining deployment priorities and preferences based on beneficiary need. In a future stage of the program, a website will be made available to help match supply with demand nationally.
CITY QUESTIONS
How does the e-Stewards Digital Equity (eDE) program benefit our city?
For many cities, one of the biggest obstacle in seeing their digital equity goals become a reality is the lack of quality, affordable hardware.
When large donor enterprises, with high-quality assets to decommission, can be assured of responsible management via e-Stewards Refurbisher/Recyclers, these assets can be made available, offering a "New Device Experience", to address the hardware demands of cities Digital Equity programs.
What is a New Device Experience?
The eDE program only will deploy IT equipment which delivers high-quality, cosmetically sound, similar-stack devices for redistribution.
Each machine will be professional refurbished by licensed and certified technicians in accordance with the e-Stewards Standard. This means the machines are completely cleaned, data expunged and then tested for full-functionality.  It will be made available in an "as new" condition, at an affordable rate.  And because it's done by an e-Steward Certified Recycler, there's peace of mind that the faulty or broken parts will be properly recycled.
I'm interested in starting a Digital Equity (DE) program in my city, how do I get started?
Please contact our partner EveryoneOn which administers the HUD Connect Home program and works with cities to advise on such programs.
What are the costs to the end-user.  Are the costs of devices fixed or sliding based on recipient income?
Each City can customize their offering in collaboration with local refurbishers/recyclers and businesses to meet the unique needs of their communities. Depending on the recipient requirements, devices usually run from $50-100/unit. A unit includes a monitor, keyboard, mouse and computer.  Printers and other peripherals and internet services can be purchased additionally at low cost.
Does your program also offer Digital Equity curriculum and trainings? Who will provide these services?
Each City partners with local non-profits for training.  e-Stewards provides material on responsible recycling at end-of-life so the end-user knows what to do with it when they need to dispose of it.
Does the program include internet connectivity?
Various cities are combining agreements with Internet Service Providers to provide low-cost internet packages to accompany the hardware.  In future we may partner with these to bring the costs down further through economies of scale.