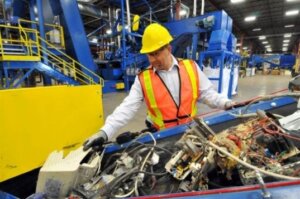 The Basel Action Network (BAN) announced today that the world's largest electronics recycler, Sims Recycling Solutions, Inc. (SRS) has signed a contract with Orion Registrars to certify each of its 14 North American electronics processing sites to the e-Stewards® Standard over the next 18 months.
The e-Stewards Certification is known as the "gold standard" for environmentally sound and socially responsible electronics recycling in an industry too often plagued with irresponsible actors. e-Stewards Certified Recyclers undergo rigorous onsite audits to ensure they never allow the export of hazardous electronic waste (e-waste) to developing countries throughout their recycling chain, while preventing the unauthorized release of personal and corporate data from old computers.
"We welcome Sims into the formal process for becoming certified to the e-Stewards Standard," said Sarah Westervelt, BAN's e-Stewardship Policy Director. "Their commitment to responsible and clean operations is already apparent, and soon customers will have the added assurance that they meet the e-Stewards Standard for globally responsible electronics recycling."
In a statement, SRS said it believes that the e-Stewards program provides the most clear, unambiguous and robust approach to e-waste processing. Confirming the rigor of the standard, the e-Stewards Certification incorporates ISO 14001 the R2 certifications as well as unique e-Stewards requirements in one standard and audit.
In addition to e-Stewards certification, both SRS and BAN support the passage of the Responsible Electronics Recycling Act. This proposed federal legislation would prohibit the export of toxic e-waste from the U.S. to developing countries and ensure that the U.S acts in accordance with the waste trading rules established by the United Nations Environment Program's Basel Convention.
"Sims is not only the largest e-waste recycler in North America, but their support of both the market initiative — the e-Stewards Certification — and legislation in the US Congress toprevent the dumping of hazardous wastes on developing countries must be admired," said BAN's Executive Director Jim Puckett. "Leaders lead, and Sims has clearly shown it has no hesitation in doing so."