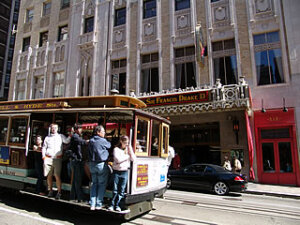 Leading environmental and community organizations today applauded the Sir Francis Drake, a Kimpton Hotel, on its decision to pursue the most globally responsible recycling practices for its electronics. In committing to this, the Sir Francis Drake becomes the first hotel in the travel industry to achieve the designation "e-Stewards Enterprise."
"Kimpton Hotels & Restaurants is a leader in the hospitality industry and we are pleased to announce that the Sir Francis Drake Hotel is the first hotel globally that holds the e-Stewards Enterprise certification," said Jim Gross, General Manager of the Sir Francis Drake Hotel. "Kimpton's eco-friendly environmental practices have always been at the forefront of the industry and we're very excited to continue this tradition with the announcement of our recognition as an e-Stewards Enterprise. The staff and management at the landmark Sir Francis Drake is proud to be a part of this program and take the proactive measures of the recycling of our electronics and the commitment to making our city and planet a better place to live."
E-waste is the fastest growing part of the U.S. garbage stream. According to Time Magazine, Americans throw out more than 350,000 cell phones and 130,000 computers every day.  When improperly recycled or disposed, the lead, mercury and other toxic materials inside e-waste creates severe pollution for communities around the world.
"At this pivotal moment in the worldwide e-waste crisis, the Sir Francis Drake Hotel joins a growing number of business, academic and governmental leaders taking action to stem a toxic tide," said Jim Puckett, Executive Director of the Basel Action Network ( BAN).
The non-profit BAN created the world's most rigorous standard for electronics recycling, called the "e-Stewards Standard for Responsible Recycling and Reuse of Electronic Equipment." As an e-Stewards Enterprise, the Sir Francis Drake Hotel agrees to always make best efforts to work with recyclers that meet this standard, ensuring that the hotel's e-waste does not contribute to global toxic waste.
E-Stewards Recyclers undergo a professional audit every year to guarantee they do not export hazardous recycling byproducts to developing countries, use U.S. prison labor, or dump in municipal landfills. E-Stewards recyclers also ensure that private data is kept secure, and that their operations protect both workers and the environment everywhere.
"Principled and practical certifications programs like e-Stewards are among the best tools in our global sustainability toolbox," said Frances Beinecke, Executive Director of the Natural Resources Defense Council. "Today, the Sir Francis Drake Hotel has committed to a new arena of increasing importance – electronic product and waste stewardship."
Adds Barbara Kyle, Executive Director of the Electronics TakeBack Coalition: "We are pleased that the Sir Francis Drake Hotel has earned the e-Stewards Enterprise designation and is the first in the travel industry to do so. By rewarding industry leaders for such real progress, we can make significant progress toward greening our beleaguered planet."
More than 70 environmental groups worldwide, including Greenpeace, the Sierra Club and the National Resources Defense Council, have endorsed the e-Stewards Standard.
About e-Stewards® Certification
The e-Stewards® Initiative is a market-based solution to help individuals and organizations identify and promote those electronics recyclers that ensure that used electronics are managed with the highest standards of environmental and social responsibility. e-Stewards Certified Recyclers are audited and certified to ensure highest levels of responsibility and e-Stewards Enterprises are major corporations, municipalities or institutions that agree to make best efforts to make use of e-Stewards Certified Recyclers. For more information about the e-Stewards Initiative visit: www.e-Stewards.org
About the Basel Action Network
Founded in 1997, the Basel Action Network is a 501(c)3 charitable organization of the United States, based in Seattle, Wash. BAN is one of the world's foremost advocates for environmental justice and sustainable production. Our programs in electronic waste and green ship recycling are the leading forces to turn global industries away from cheap and dangerous disposal methods to socially and environmentally just alternatives that are practical and also minimize business risk and liability. We campaign to prevent the export of toxic waste to developing countries, promote a toxics-free future by advancing green design and responsible consumption, and advocate for the right to a pollution-free environment for everyone. For more information, visit: www.ban.org
About the Sir Francis Drake Hotel
Kimpton's legendary Sir Francis Drake recently debuted a much-anticipated revival with transformations in its 416 guestrooms and lobby to reveal a more stylish and sophisticated look and feel, which perfectly complement the traditional elements and original Gothic Revival and Regency architecture of the hotel. Originally built in 1928, the hotel showcases a debonair new design that is a contemporary interpretation of the classic attitude and elegance that was typical of the era of Sir Francis Drake.  Since its opening, the hotel has been a favorite for visitors and locals alike, best known for its celebrated doormen dressed in their customary Beefeater uniforms, always ready to offer a smile and a helping hand. For information and reservations, please visit www.sirfrancisdrake.com or call (415) 392-7755 locally or (800) 227-5480 in the U.S. The Sir Francis Drake Hotel is located at 450 Powell Street, San Francisco, California 94102.