From The Times of India, June 12, 2012.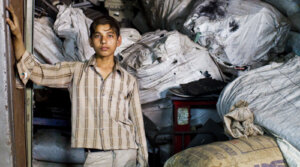 NEW DELHI: Seventeen child labourers were rescued from a computer recycling unit in Nangloi in west Delhi on Monday. The unit is located in one of the biggest junk dealers' market, which has nearly 1000 scrap stores, say activists.
Activists claimed the children were involved in the hazardous job of segregation of parts from computers, mobile phones and other electronic devices, which exposes them to toxic elements. Four employers were held. Aged under 13 years, the youngest child was found to be six years old. The labourers were trafficked from villages of UP and Bihar.
Meanwhile, the rescue of several girls after raids in placement agencies across the capital has prompted Delhi Police to begin a round-the-clock check on various trains arriving from Bengal, Jharkhand and the northeast. Most of these girls were trafficked to the city from east and northeast India.
"I have instructed the GRP staff to keep an eye on the children in some specific trains from east, northeast and south India.," said Sanjay Bhatia, additional DCP (railways).
(With inputs from Arjun Bibhas)