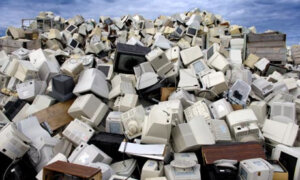 From the EPA — On October 18, 2012, Mark Glover and Discount Computers, Inc. (DCI) pled guilty to crimes associated with electronic waste, making it the first e-waste conviction in the country.
Glover pled guilty to one count of trafficking in counterfeit goods and DCI was charged with one count of trafficking in counterfeit goods and one count of illegally storing and disposing of hazardous waste.
EPA's criminal program in Region 7 received information from a Missouri DNR Inspector regarding the abandonment of computer monitors/CRTs by DCI in St. Louis, MO. MDNR explained that during their inspection hundreds of computer monitors, CRTs, and computers were observed in the warehouse.
Furthermore, MDNR observed documents relating to the overseas shipment of computer monitors to Egypt. According to MDNR, labels bearing the serial numbers and other manufacturer information were being removed from computer monitors and replaced with new ones to reflect a more current date of manufacture. Once the CRT's were re-labeled in Missouri, they were shipped to DCI in Michigan for inspection and subsequent re-shipment overseas. The alleged labeling was committed because Egypt prohibits the entry of CRT's manufactured prior to 2003.
It has been determined that since 2006 DCI has filed approximately 300 Shippers Export Declarations with a destination of Egypt involving a total value of approximately $9,500,000.