This 8-hour course is presented in two 4-hour segments in an online real-time webinar over two consecutive days, with live trainers.  The final exam will be administered (live) during the last (8th) hour on the second day of each course.
Please note that this course is a live webinar in 2 consecutive sessions/days, and must be completed during this timeframe.
Course Objectives
The purpose of this course is to provide current e-Stewards auditors, assessors, program staff, and consultants with the knowledge and training required to perform their work to Version 3.0 of the e-Stewards Standard.
Prerequisites
All participants in the V3 Upgrade Training must already be qualified e-Stewards V2 auditors, assessors, or program staff.  Therefore, at the time of registration, each participant will be required to provide copies of the following two credentials:
1. SAI Global certificate of successful completion of the e-Stewards V2 Auditor Training, and
2. Valid certificate of successful completion of ISO 14001:2015 upgrade or lead auditor training
V3 Upgrade Courses Available
NOTE: Most V3 Upgrade courses have already occurred. These are the final V3 Upgrade webinars offered. Please contact Salomé Staähli at salome@e-stewards.org with questions.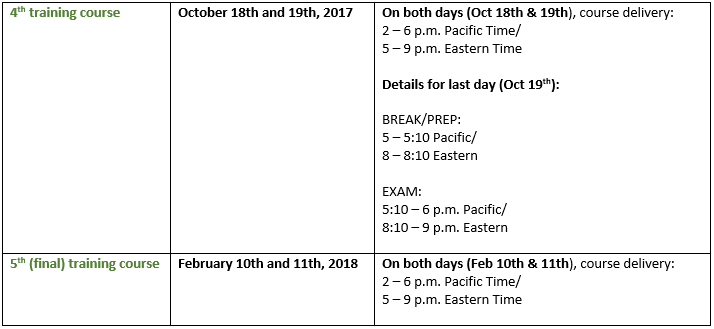 Cost: $795/course (2-session webinar)
Register: HERE
Who Should Attend?
Current e-Stewards V2 lead auditors, ANAB assessors, certification body program staff, and consultants wishing to upgrade their V2 credentials to V3, and maintain their e-Stewards qualifications.
NOTE: All e-Stewards audits must be against Version 3.0 starting January 1, 2018, and all Version 2.0 certificates become obsolete on September 15, 2018.
Certificates
Successful prequalified participants who complete the 8-hour training and pass the exam will receive a Certificate of Attainment from the e-Stewards program administrator within 6 business days.
Cancellation Policy
Refund if registrant cancels participation in writing to training@e-stewards.org:
5 business days or more prior to the start of 1st day of training webinar: $750 refund
Within 4 business days prior to the start of the 1st day of training: $500 refund
After the start of a training course: No refund