We recently interviewed Jim Taggart, CEO of ECS Refining, on the state of US e-waste management, job growth and the newly formed Coalition for American Electronics Recycling.
Jim, what is happening now with American electronics recycling?
Mike, what is happening is that the U.S. has an enormous e-waste problem. The U.S. is the largest innovator of electronic technology in the world. However, this also makes Americans the largest users and subsequently generators of e-waste in the world. New electronics now seem to have a useful life of only a year or so, so the e-waste problem is going to get worse before it gets better.
Unfortunately, the U.S. electronics recycling industry lacks a robust domestic infrastructure—and the jobs that come with it—because of unrestricted and unfair trade in electronic scrap with developing countries.
ECS Refining along with coalition partners is pushing the "Responsible Electronics Recycling Act, HR 2284 / S1270 which promotes fair and expanded trade in electronics. This enables American recyclers to rationalize new investments in plants and hire U.S. citizens to support a critical and growing American industry.
What is the Coalition for American Electronics Recycling?
The Coalition for American Electronics Recycling represents U.S. companies (recyclers, enterprises, original equipment manufacturers (OEMs) and other businesses) which embrace the reality that electronic recycling should be performed securely and sustainably, for the benefit of the American economy.
The Coalition is committed to growing an essential American industry with a proven capacity to manage the excessive volume of e-waste generated within our borders, creating good jobs and expanded trade. Another key purpose of the bill (HR 2284 / S1270) is to prohibit the export of certain types of hazardous, non-working electronics and e-waste from the U.S. to developing countries whose citizens are dealing with unsafe landfills and suboptimal situations where citizens are de-manufacturing e-waste in their own back yards.
Why did ECS and others form the coalition?
As one of the early founders, we wanted to find a way to work with other concerned partners (Cascade Asset Management, Hesstech, Hugo New, and Redemtech) to address this alarming trend of electronics waste being shipped outside the United States. Not only is e-waste dangerous for developing countries where children are living in squalor and working with hazardous materials, but e-waste is America's problem which can be solved with American resources. We have over 40 members in our coalition which is growing exponentially, and we have the technology and resources to effectively solve this problem. Let's grow the jobs here.
What is the Responsible Electronics Recycling Act?
The Responsible Electronics Recycling Act is a bill that was introduced in the U.S. House of Representatives by Representative Raymond Green [D-TX29] on June 22, 2011 as HR2284 and an identical companion bill was introduced by Senator Sheldon Whitehouse [D-RI] in the Senate on June 23, 2011 as S1270. The purpose of the bill is to prohibit the export of certain types of unprocessed and non-working electronics and e-waste from the U.S. to developing countries. 
Why is it important to prohibit the export of hazardous electronic waste to developing countries?
There clearly is a demand in developing countries for electronics, but they typically want usable working electronic equipment and components. The problem we hope to solve is the massive amounts of non-working and obsolete electronics sent to developing countries. These "mixed electronics" find their way to parts of Asia and Africa and are sent from the U.S. and other developed countries. Unscrupulous brokers and exporters ship electronic waste claiming there are legitimate recycling opportunities, but the reality is we're exporting hazardous waste. This practice has been dubbed as sending "toxics along for the ride."
In developing countries the vast majority of electronics sent from developed countries for "so called" recycling is in fact harvested in unsafe working conditions using primitive technology (bare hands, cooking pots, etc.) that poisons workers (many times child labor) and their communities. The scale of this problem is staggering, as has been seen on reputable media outlets such as 60 Minutes, Frontline, National Geographic, and Business Week. Members of the Coalition have traveled to developing countries and we've heard from the people that live there that they don't want America's e-waste scrap.
Why is it important for Americans to worry about environmental problems in developing countries?
Americans need to worry because we can't control what these developing countries do with our e-waste. Many U.S. companies and foreign-based organizations calling themselves "electronics recyclers" perform little or no recycling, but are simply materials collectors and brokers to overseas scrap buyers. Many of these fraudulently represent themselves as domestic recyclers to the marketplace because there is no federal legislation to prevent or audit these practices.
Another point regarding "having no control" is a majority of large U.S. businesses, when soliciting electronics recycling services, ask for "no export" of e-waste to developing countries thinking they're doing the right thing. However, these dubious recyclers state they'll act ethically, but it's not necessarily what happens and there's no traceability required to prove it otherwise.
Additionally, when we handle our environmental problems, we create new opportunities. However, investors in domestic recycling are at a financial disadvantage to broker/exporters whose overseas recyclers operate with virtually no infrastructure, and few restrictions regarding worker safety and environmental pollution. Consequently, investment in American recycling capacity is constrained, lagging far behind market demand and preventing the U.S. from being able to generate much needed jobs.
According to the EPA, the United States generated more than 3.1 million tons of ewaste in 2009. Vast amounts of strategic commodities contained in scrap electronics, including rare earths, gold, copper, and aluminum, are sold at a deep discount to the broker/exporters only to be processed overseas for sale to global markets at full value—an unfortunate loss of export revenue and jobs.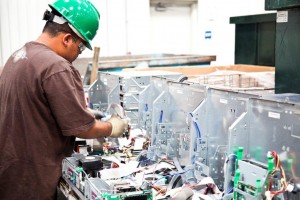 Do you think this bill will be helpful in providing jobs in this country?
Without a doubt, it will be helpful. According to the EPA, the United States generated more than 3.1 million tons of ewaste in 2009. Vast amounts of strategic commodities contained in scrap electronics, including rare earths, gold, copper, and aluminum, are valuable byproducts of effective electronics recycling. These rare earth metals, along with recycling plastics, glass, and more is an incredible amount of materials that can be reused for new products. By legislating domestic e-waste recycling as a legitimate U.S. industry, tens to hundreds of thousands of jobs will be created.
Do you think this bill will help protect and maintain a domestic supply of critical metals for strategic and other uses through domestic recycling (urban mining)?
Yes, without a doubt. If we offshore our recycling, we don't keep a hold of these critical metals which can then be use for another country's strategic purposes. Also, if we're in a deficit with these metals, we could be at a huge disadvantage from a defense standpoint, not a place where we want to be with all the global unrest and turmoil today.
Who is supporting the Responsible Electronics Recycling Act?
As of December 21, 2011, there are 13 co-sponsors of the House bill (see current list on GovTrack):
Gus Bilirakis [R-FL9]

Jim Costa [D-CA20]

Jeff Denham [R-CA19]

Anna Eshoo [D-CA14]

Blake Farenthold [R-TX27]

Charles Gonzalez [D-TX20]

Mazie Hirono [D-HI2]

Steven LaTourette [R-OH14]

Zoe Lofgren [D-CA16]

Grace Napolitano [D-CA38]

Dennis Ross [R-FL12]

Lee Terry [R-NE2]

Michael Thompson [D-CA1]
In addition, there are 2 co-sponsors in the Senate (1 Republican and 1 Democrat):
Sherrod Brown [D-OH]

Lisa Murkowski [R-AK]
We note that the Institute for Scrap Recycling Industries (ISRI) – the scrap recycling business association of which ECS and many other CAER members is a part does not support this legislation. How is it that CAER and ECS have not been able to convince ISRI (your own business association) to support the bill, or at least to be neutral on it?
This is a compelling and relevant question for ISRI. Some members of the Coalition are also ISRI members and have expressed to ISRI their displeasure with ISRI's stance on this bill because it does not represent the Coalition's business interests. As companies whose core purpose is effective electronics reuse and ethical domestic recycling, we represent a different perspective from ISRI. We believe this bill is good for our electronics recycling businesses because it ensures this business remains in the U.S.
Recently ISRI announced a business survey and claimed that the amounts of electronic waste exported to developing countries was minimal. Do you believe this to be true?
No, we don't in the results of this survey. We believe that currently about 80% of electronics claimed to be recycled in the U.S. is really just "packed and stacked" into shipping containers and exported. Aggregators of used electronics work through brokers to ship equipment overseas and get paid pennies per pound for this mixed assortment of electronics. We see solicitations from these types brokers all the time.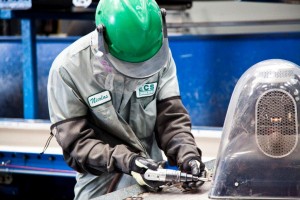 Do you think this bill has a chance?
Absolutely! Fortunately, we have observed a great deal of interest in this legislation. Each Coalition member has been assigned to a committee in the House and Senate. Members of Congress are learning more about the bills and adding their names as co-sponsors, and Coalition member are meeting with them at the beginning of February. There is no date yet for committee hearings or votes, but we hope to get it determined shortly. While there are many priorities at the Capitol, legislators have told us that this bill provides the following:
The opportunity to create valuable jobs (without stimulus spending)

Mitigate security and counterfeiting risks from the unfettered export on unprocessed electronics

Significantly help the global environment
These are all important causes that generate bi-partisan support and action in Washington.
Additionally, effectively and responsibly managing our electronic waste is top of mind for conscientious citizens. The issue has been critical to consumers and businesses, but they don't know where to go for safe and responsible recycling. California, where ECS Refining is headquartered, is one of the most conscientious states, but citizens still don't realize we have safe, responsible electronics and end of life (EOL) processing right in our own backyards. There is enough capacity and technology across the America to completely recycle electronics (100%) without putting hazardous materials back into our environment.
We should all want American workers to have access to these much needed jobs. Why ship materials offshore to places where we don't know where the e-waste ends up? We all need to be stewards to the U.S. citizens who need jobs, our country and the rest of the world.
If the bill does not pass, what can consumers do to ensure that their waste electronics is not exported?
As always American consumers can continue to recycle responsibly within their states. Many waste service companies pick up of electronics at homes and businesses, and there are always events at local non-profit organizations and schools, as well as "take back" programs at retailers such as Best Buy, Wal-Mart, Radio Shack, Costco and others.
Thankfully, there is e-waste recycling legislation established in 26 states now and we hope to see that number grow quickly. However, that legislation is not consistent amongst the states necessitating the need to have and established federal policy and legislation.
What happens next for the Coalition? Will it become a permanent association for responsible electronics recyclers?
The sole focus at this time is supporting passage of the Responsible Electronics Recycling Act.