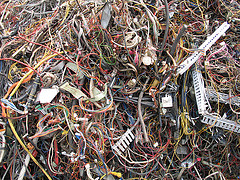 Are you in the NYC area and need to responsibly dispose of those busted or no-longer-loved electronics haunting your home's closets and junk drawers? Are those cords and coffee makers cutting into your space and peace of mind? If you want to free up some room, make a difference and recycle them the right way-for FREE-just bring them to the September 17 collection event hosted by the Broadway Green Alliance and ERI.
Your electronics gave you lots of love, now return the favor and be kind to the planet and each other by recycling them safely, ethically and responsibly. Any recycled iPods will be donated to the Broadway Alzheimer's iPod Drive.
 The Details
Where: Duffy Square (Broadway and 46th Street)
When: Wednesday, September 17, 2014
Time: 10am-2pm
What: Broken or no-longer-loved electronics (click here for full details)
Who: Anyone wanting to safely, ethically and responsibly recycle their electronics
Please share this with folks in the NYC area so they know where they can safely recycle their old electronics.